Jeanette Ellis-Royston
Jeanette Ellis-Royston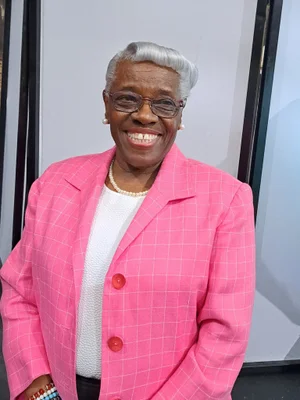 Jeanette Ellis-Royston leads with wisdom, walks with courage, and champions her community with a unifying song. For four decades, she has devoted her heart and energy to the battle for social justice and the good of all.  Jeanette's boots-on-the-ground organizing style paved the way for modern activism in California and provided the space for community warriors to find their own voice to lead with.
Jeanette's legacy of activism was born in 1985, with the founding and leading of the Pomona Valley National Council of Negro Women, Inc.  During this time, she organized projects as the "Get -About Bus" Campaign to provide transportation for medical appointments for the disabled and senior citizens the Pomona Valley. In a span of 20 years, Jeanette would touch social movements that included the Grandparent Program at the Prototype Women's Center, the campaign for Maxine Waters, the United Way Board of Directors, the Claremont Human Relation Council, and range of others to move her community forward.
The hallmark of Jeanette's activism is seen in her involvement in the NAACP. In 2013, Jeanette reactivated the NAACP Pomona Branch as a tribute to her hero, Dr. Martin Luther King. The Branch had been dormant for 25 years until Jeanette breathed new life into the organization. Today, she serves as the President of the Branch, and surpassed the national goal of 110 members. To further honor Dr. King, Jeanette committed the NAACP to the revived Poor People's Campaign to advocate for the poor and disenfranchised in the United States.
Supervisor Hilda Solis appointed Jeanette to serve as a Commissioner for Human Relations from Los Angeles County Supervisorial District 1.
Jeanette is a mother with one daughter, four fabulous grandchildren, and nine foster sons. She graduated from Long Island University, Brooklyn Campus with a Bachelor of Arts in Education and Speech and was a teacher in the Pomona Unified School District for 15 years. Her high energy and positive attitude keeps her fully involved with Order of Eastern Star, Sigma Gamma Rho Sorority, member of Macedonia Baptist Church of Pomona and the Inspirational Choir; and she is involved in a host of other community organizations. Jeanette is known to "Give God the Glory" in everything she does and the opportunity to build productive bridges in her community.