Fredrick Sykes
Fredrick Sykes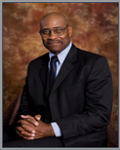 Fredrick Sykes is a retired Los Angeles County Deputy Sheriff and long-time community activist. He was born in Pineville, Louisiana and grew up in and around South Central Los Angeles. He has lived in West Covina for the last forty years. Mr. Sykes and his wife, Dana, have a daughter who is a college student and a son who is a Deputy Sheriff for the County of Los Angeles.
Mr. Sykes' political career includes being elected as the City of West Covina Mayor/Council Member and holding the positions of City of West Covina Planning Commissioner and Human Relations Commissioner. Mr. Sykes also served as a member of the West Covina Redevelopment Dissolution Oversight Board. His civic engagement is extended through his membership with the Association of Los Angeles Deputy Sheriffs, West Covina Lions Club, West Covina Historical Society, and West Covina Beautiful.
Mr. Sykes was appointed to the Commission by and represents the First Supervisorial District.