Who We Are
Who We Are
The Los Angeles County Commission on Human Relations is dedicated to promoting positive human relations in our richly diverse, multicultural county. The Commission works to develop programs that proactively address racism, homophobia, religious prejudice, linguistic bias, anti-immigrant sentiment, and other divisive attitudes that can lead to intercultural tension, hate crimes, and related violence. Partnering with law enforcement, schools, cities, community-based organizations, youth, academics, policy makers, businesses, and other leaders, the Commission brings key players together to resolve immediate intercultural conflicts and to work toward the longer term aim of eradicating bias and prejudice.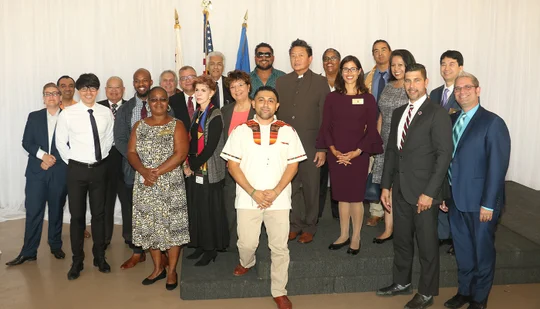 LA County's Human Relations Commission has a legacy that dates back more than 75 years to shortly after the so-called "Zoot Suit Riots" displayed serious, long-standing human relations concerns. This incident, during which large numbers of mostly White young men in the military clashed with local young men of color for three days in the streets of LA, served as a wake-up call to county residents. In January, 1944, the County Board of Supervisors established a Committee for Interracial Progress. Two years later it was renamed the Committee for Human Relations. Following national recognition for its effective work to improve intergroup relations, the Committee became an official agency of County government in 1958 and was renamed the Los Angeles County Commission on Human Relations. The Commission is among the oldest and largest of its kind in the U.S.
Each County Supervisor appoints three Commissioners who serve multi-year terms. The 15-member Commission meets each month. A staff of professional and support personnel in the County's Department of Workforce Development, Aging, and Community Services executes the Commission's programmatic work. The Commission's signature projects include the annual Hate Crime Report and the annual John Anson Ford Human Relations Awards which recognize exemplary practices and exceptional leadership in human relations work. 
The Los Angeles County Commission on Human Relations
3175 W. 6th Street, Suite 401

Los Angeles, CA 90020

Office: (213) 738-2788